【Freshpak】南非國寶茶(RooibosTea) 茶包 2.5g
Product Description
Made from the herb Aspalathus Lineraris, 'Redbush Tea" is grown only in the Cedarberg Mountains of the Western Cape in South Africa. It has a delicious, aromatic flavor and is renown for it's health promoting qualities.
Feature
Imported from South Africa
Completely Natural Herbal Tea
Naturally Caffeine Free, Low in Tannin, Rich in Anti Oxidants
Rooibos是一種生長在南非的開普頓北部Cedarberg高山上的一種有機野生植物,他集充份的太陽能量和豐富的礦物質在無污染的環境下自然生長,全世界只有南非這個國家,整個南非也只有開普頓這個城市的Cedarberg及Olifants山脈才能生產這種草本植物,Rooibos屬於灌木植物,
但其根部卻可深入地底深層吸收大自然的礦物精華,因而具足了一般植物所欠缺的罕見豐富礦物質。
這是上天賜予南非這塊土地的恩賜,被當地人視為有各種療效的萬靈丹,故取名為國寶茶。
Penghuraian
buatan daripada herba Aspalathus Lineraris, Teh Redbush hanya menumbuh di Bukit Cedarberg yang berada di Afrika Selatan. Teh ini rasa sedap, bau wangi dan terkenal dengan nilainya yang baik kepada kesihatan.
Ciri-ciri:
diimport dari Afrika Selatan

Teh Herba yang semulajadi

Tiada kafein, sedikit Tannin, dan kaya dengan antioksidan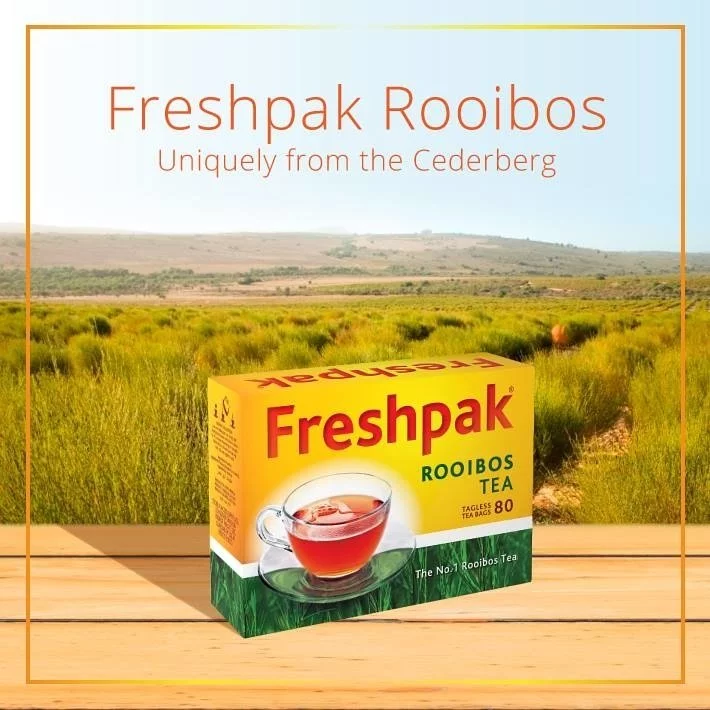 ---