【鼎季】Osmanthus Oolong Tea (6packs/box) 桂花烏龍茶 6入/盒
RM 49.00 MYR
RM 299.00 MYR
Osmanthus Oolong is consisted of fresh Oolong tea leaf and scented Osmanthus flower. With the aroma of floral smell, it sets off the sweet taste of Oolong tea.
For our tea bags, we use peculiar shape of triangle pyramid PET tea bags from Japan, which can prevent the iron button on the bad from rusting and possibility of residual metal. The tea bags and the lines' holder are all passed through the national sanitary standards.
Feature:
Best tea to keep in good health
Safe and sanitary
Portable and easy to carry
Exclusive moisture-free package
Sweet Osmanthus + Original Oolong piece
Exclusice design for office workers- Strict inspection for our great quality.
Brewing methods:
Hot: Pour ca. 180ml hot water in the cup, and let it dip with the tea bag for three minutes.

Cold: Pour ca. 180ml hot water into the cup, and let it dip with the tea bag for three minutes . Then add some pieces of ice to cool down.
** Best taste : Take the bag out before drinking, preventing from more astringency taste in the cup.
頂級產品,"鼎季"出品
鼎季精選烏龍伴著新鮮桂花熏製而成,不僅有烏龍回甘更具有桂花的芬芳香味 喝了還想要繼續喝!
喝茶其實可以很安全 每批茶葉都有茶葉檢測報告
我們關心茶的品質 更關心您的健康
Osmanthus Oolong mengandungi daun Oolong yang segar dan juga wangi bunga Osmanthus. Bau wangi bunga berikan kemanisan Teh Oolong
Bulatan teh beg ini dibuatkan segi tiga dengan menggunakan PET teh beg dari Japan, yang boleh mencegahkan kemungkinan logam sisa. Teh beg dan talian telah meluluskan piawai kebersihan kebangsaan.
Ciri-ciri:
Teh terbaik untuk kesihatan

selamat dan bersih

mudah untuk dibawa

pakej yang tiada lembap

Osmanthus yang manis + serpihan Oolong asal

Eksklusif kepada pekerja pejabat – pemeriksaan ketat untuk kualiti yang baik
Cara membancuh:
Panas: tuangkan 180ml air panas ke cawan, mencelup teh beg 3 minit

Sejuk: tuangkan 180ml air panas ke cawan, mencelup teh beg 3 minit. Selepas itu tambahkan ais
** Terbaik rasa: ambil keluar teh beg sebelum minum untuk mencegah rasa astringen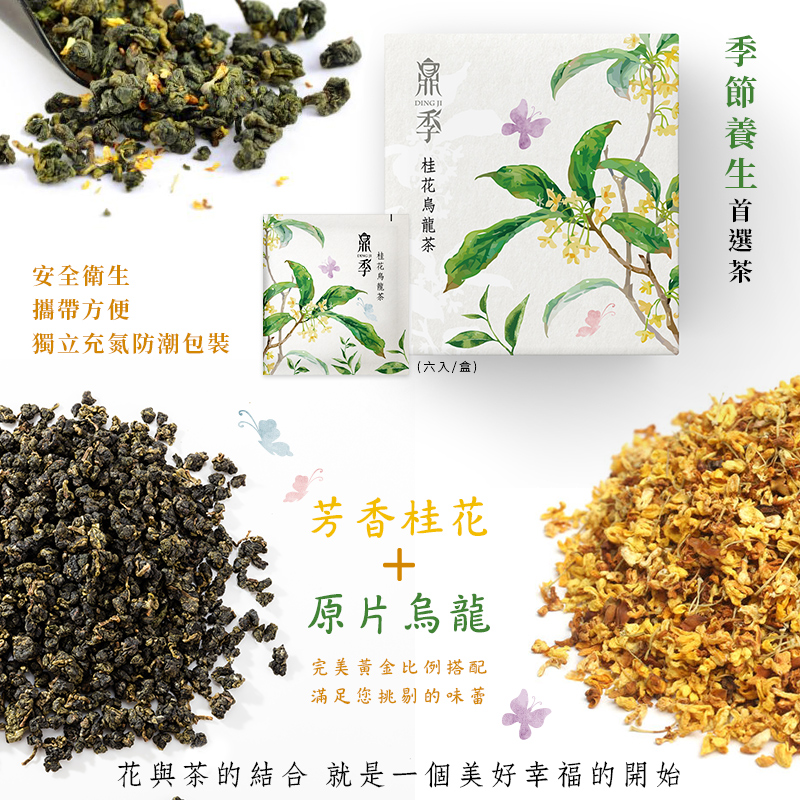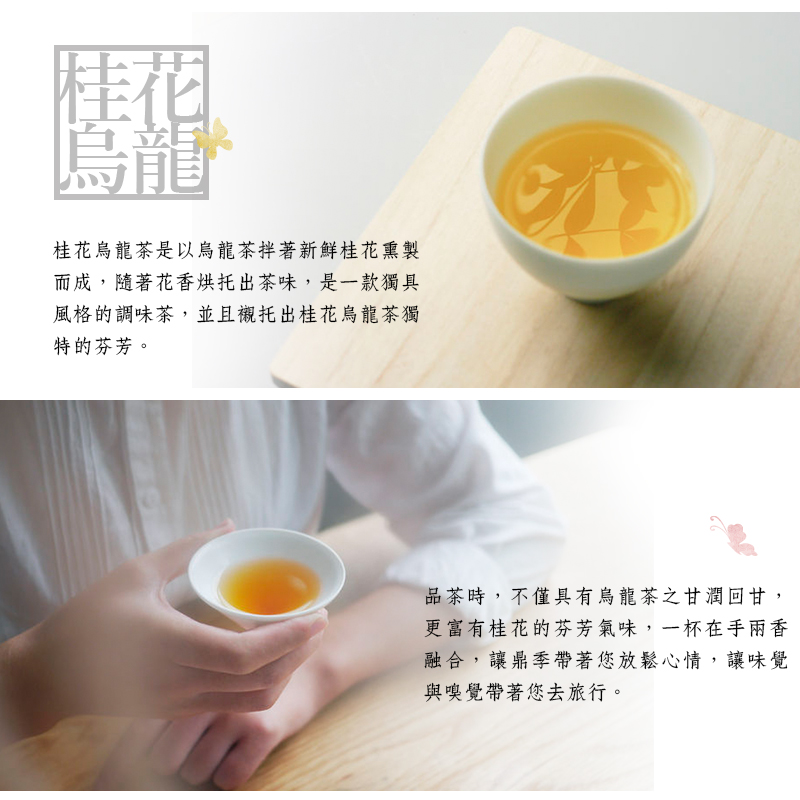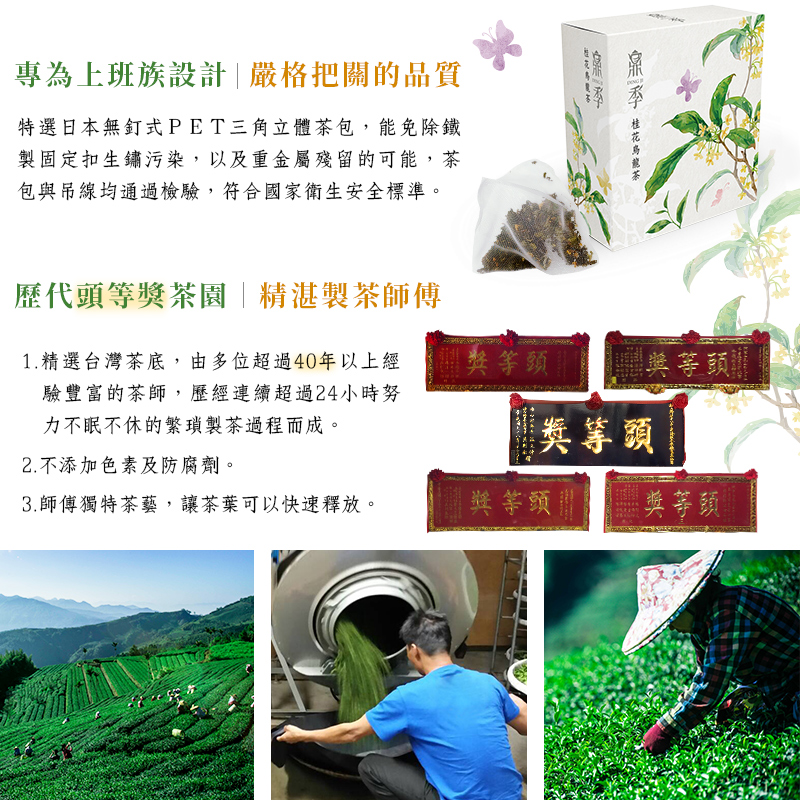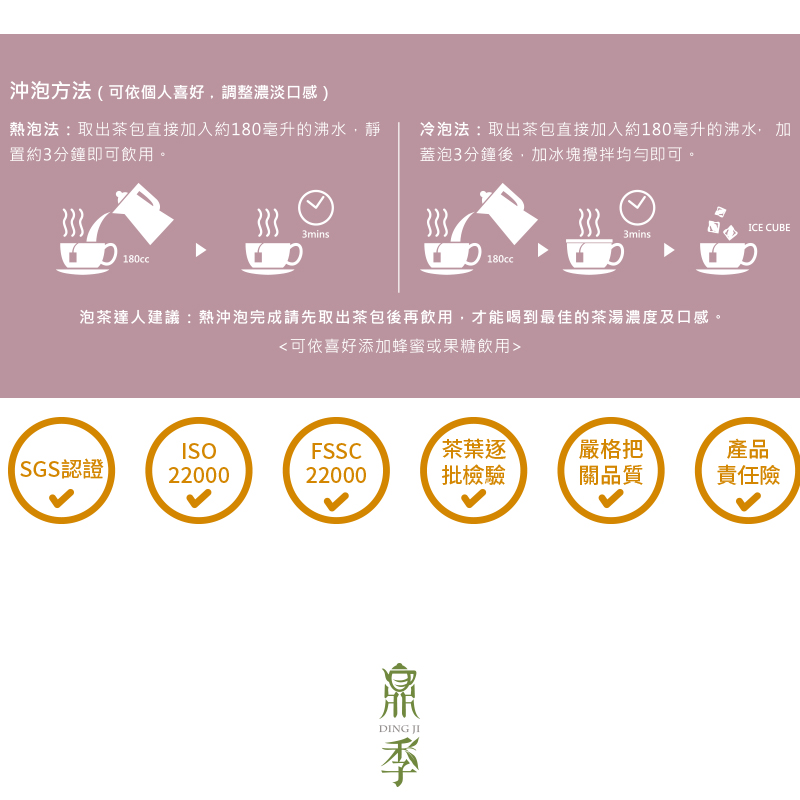 ---