【鼎季】DING JI Ali Mountain Honey scented tea bags (10 bags) 台灣阿里山蜜香紅茶立體茶包(10入/袋)
Premium Ali Mountain Honey Scented black Tea uses the Oolong small-leaf variety in summer and fall to produce. In those hot seasons, the tea leafhopper would bite on the leaves to feed itself. However, through this bitten mark, the interior leaves would generate chemical change and make the tea has the unique fruity and honey taste. With its sweet and smooth taste, there's thick and mellow aroma while drinking honey scented black tea. Most importantly, it can be brewed many times than other tea, you can enjoy this wonderful tea for longer time.
Variety: Green Tip Oolong
Place of origin: Ali mountaion high altitude tea field.
Fermentation degree: 100% of fermentation
Roast degree: 0%
Pure weight: 3g x 10bags
Brewing method:
Please warm up your cup first before putting your tea bag in. Add 150cc of boiling hot water then leave it still for 3-4 minutes before drinking. Each package can be reuse for 4 times. Its gradation can be adjusted according to personal preferences.
珍貴高山茶立體茶包,茶顆粒看得見,入口回甘,充滿山頭氣的一款。
歷年來頭等獎茶種,100%台灣茶,絕不混茶。
高海拔茶園,使用山泉水灌溉,茶葉純淨無污染。
Teh merah premium bukit Ali dengan wangi madu menghasilkan dengan mengguna daun kecil Oolong pada musim panas dan musim luruh. Pada musim yang panas, lelompat daun akan menggigit daun. Berikut tanda-tanda penggigitan itu, daun-daun akan menumbuh dengan mengkembangkan rasa buah-buahan dan madu. Jadi, bau itu harum semasa meminum teh ini. Yang penting itu, teh ini boleh dibancuh beberapa kali berbanding dengan teh lain.
Jenis: Oolong Tea
Teh dari medan teh Bukit Ali
Tahap Penapaian: 100%
Tahap kepanggangan: 0%
berat bersih : 3g*10 bags
Cara membancuh:
Sila panaskan set cup dengan gunakan air panas sebelum meletakkan the. Tambahkan 150cc air panas dan tunggu 3-4 minits sebelum minum. Setiap pakej boleh dibancuh 4 kali.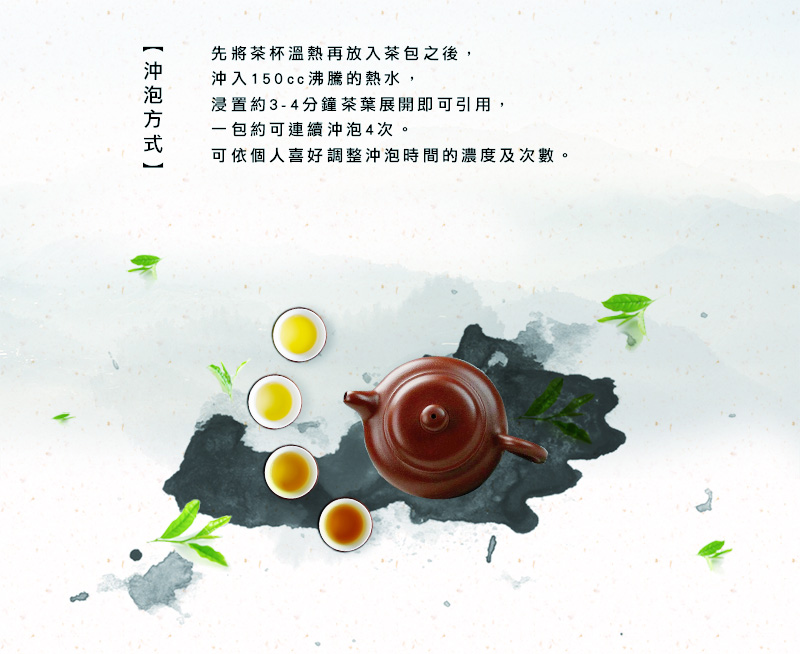 ---