【大藝好茶】Jin Xuan Tea 頂級阿里山金萱茶
2015 Belgium iTQi(The International Taste & Quality Institute) Award -- Superior Taste Award Two Stars
[Products Description]
With the certification of TAF certified laboratory(TÜV Rheinland Group), national Standard of EU, Japan and Taiwan, our products are guaranteed to have no pesticide and metal residue.

All the products have been insured for 30 millions dollars.
1. Jin Xuan Tea in A-li mountain is located in altitude 1300M, because of the climate of high mountain, the tea leaves are round in shape and also rich of pectin.
2. Distinctive natural milk flavor, the scent is light and soft, golden yellow of its tea liquid. Sweet aftertaste while not too thick.
3.National safety inspection standards passed
4.Quality guaranteed- each pack has passed the inspection, conform to the standard in Taiwan, EU and Japan
5.First choice of single-origin tea leaves, best partner with afternoon-tea, number one Taiwanese Souvenir for tourists
[Tips for making the best Max Art Fine Tea- Sun Lin Sea Tea]
Recommended equipment: Porcelain Teapot

Warm the top with hot water before the brewing process, in this case more aroma would be released. Please use clear water or good spring water with temperature of 95℃. Tea leaves should have the ⅕- ¼ amount of the teapot. Based on each person's preference to make your tea, however, the best way would be 1 minute/ each steeping time. First steaming time could have more 20 seconds of it.

1.Warm the pot up first with hot water.

2.Put the tea leaves/bag into the pot.

3. Pour the 95℃ hot water in.

4. Wait for a few minutes, then please enjoy your tea!
2015年獲比利時iTQi國際風味暨品質評鑒所頒授 風味絕佳獎章2星評等

獨特的天然奶香,香氣清幽湯色金黃,茶性柔軟。

通過德國杜夫萊茵實驗室檢測,符合台灣、歐盟、日本國家標準,保證絕無農藥及重金屬殘留。

本產品已投保3000萬元產品責任險。
2015 Anugerah iTQi (Anugerah Antarabangsa & Institut Kualiti)--Anugerah Taste Superior 2 bintang
Penghuraian
Produk kami telah melulus pensijilan makmal yang disahkan TAF (TUV Rheinland Group) dan dijamin tidak mempunyai residu racun perosak dan logam.

Semua pruduk telah diinsuranskan 30 juta dolar
Medan Teh Jin Xuan Bukit Ali terletak di tempat bertinggi 1300M, oleh sebab cuaca bukit tinggi, bentuk daun bulat dan banyak pektin

Perasaan susu yang unik; aromanya harum, airnya berwarna kuning emas.

Melulus standard pemeriksaan keselamatan negara

kualiti terjamin: setiap bungkus telah melulus pemeriksaan dengan mematuhi standard Taiwan, EU dan Japan

pilihan pertama kepada daun asal usul, teman yang terbaik dengan minum petang, juga cenderamata No1 kepada pelancong asing
Cara untuk pembuatan Teh Max Art Fine -Teh Sun Lin Sea
Peralatan yang disyorkan: Teko Porcelain
Sila panaskan air yang bersih dan baik pada suhu 95℃ untuk pastikan perasaan teh yang terbaik. Bilangan daun teh ialah ⅕- ¼ teko. Sila mengikut perasaan sendiri walaupun cara yang terbaik ialah 1 minit setiap masa merendam, selepas itu tambah 20 saat setiap kali

1.panaskan tako dengan menggunakkan air panas

2.letakkan daun teh / teh beg ke tako

3.tuangkan 95℃ air panas

4.tunggu beberapa minit, selepas itu anda boleh menikmati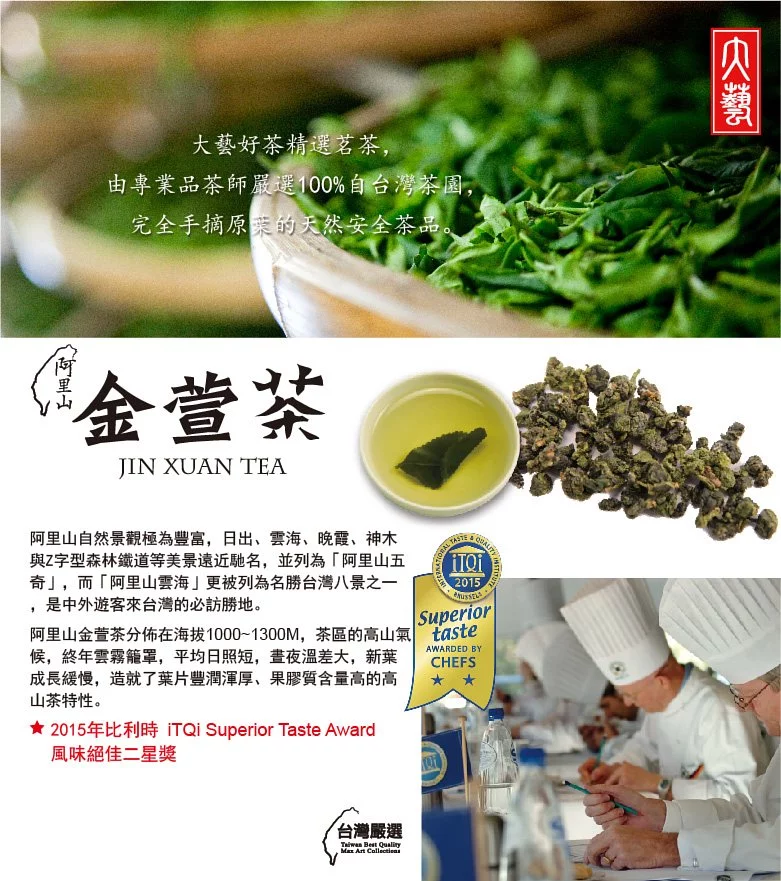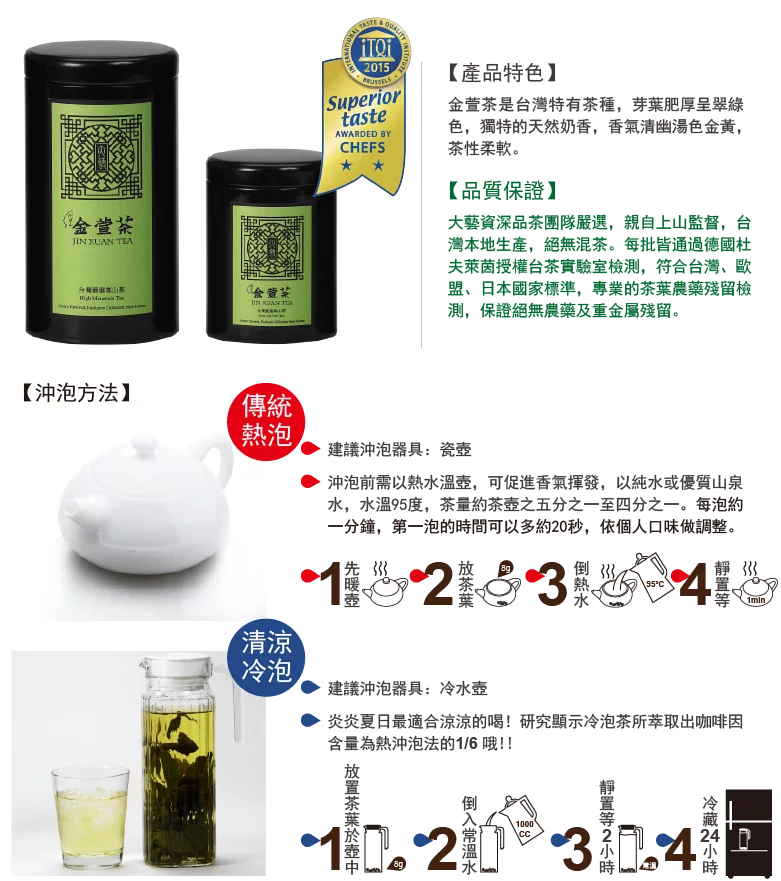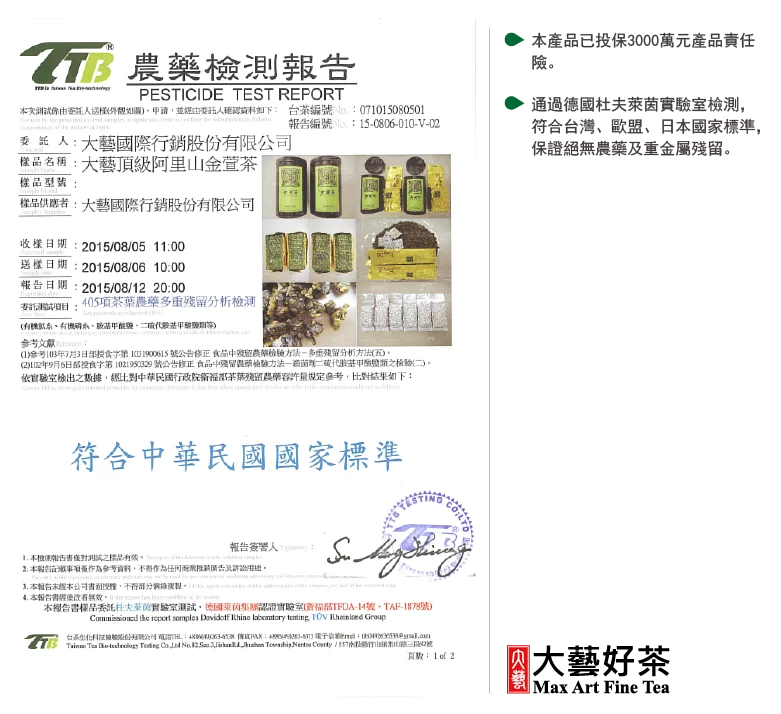 ---