【大藝好茶】 Honey Black Tea 頂級蜜香紅茶
2015, 2016 Successive 2 years of Belgium iTQi(The International Taste & Quality Institute) Award -- Superior Taste Award Three Stars

2010 8th International Tea Rating- high-ranked Reward for team black tea

2006 Ten Ren's Tea competition- Golden Reward for Team black tea
[Product description]
With the certification of TAF certified laboratory(TÜV Rheinland Group), national Standard of EU, Japan and Taiwan, our products are guaranteed to have no pesticide and metal residue.

All the products have been insured for 30 millions dollars.
Taiwan Sanxia Honey Black Tea and Unique variety of Black Tea: through the bite from tea-green leafhopper, it produces special fragrance and rich amino acids, after firing the leaves, it comes out with natural honey flavor and fruit taste

Completely fermented, cord-like tea leaves

Natur flavor, with soft, sweet aftertaste

National safety inspection standards passed

Quality guaranteed- each pack has passed the inspection, conform to the standard in Taiwan, EU and Japan

First choice of single-origin tea leaves, best partner with afternoon-tea, number one Taiwanese Souvenir for tourists
[Tips for making the best Max Art Fine Tea]
If you want to have a cup of hot tea:
Recommended equipment: Glass teapot.

Honey Black tea is famous for its one-tip two-leaves fresh tip hand-picked by the farmers. Hence it's not endutable for high-temperature water. During the brewing process, please use the water in the degree of 85℃, with heat-resistant pot would be profitable to lower the temperature.

1.warm the cup up with warm water

2.put the tea leaves/bag in

3.pour around 85℃ water in the cup

4.Wait for a few minutes, then you can enjoy it!
[Tips for making the best Max Art Fine Tea]
If you want to have a cup of cold tea:
Recommended equipment: Pot for cooling water

Enjoy it in the hot warm summer! According to the research, cold-brewed tea can extract ⅙ of caffeine compare to the hot-brewed !

1.Put the tea leaves/bag into the pot

2.Pour cool water into the pot.

3. Wait for 2 hours.

4. put in the refrigerator for 24 hours.
2015, 2016連續2年獲比利時iTQi國際風味暨品質評鑒所頒授 風味絕佳獎章最高等級3星評等
2010年第八屆國際茗茶評比-紅茶組,榮獲優質獎
2006年天下茗茶比賽-紅茶組,榮獲金牌獎

天然風味,蜜甘柔順、紅寶石色茶湯
完全發酵、茶葉呈條索狀
每年一期產季
通過國家安全檢驗標準
單品茶首選、下午茶美食絕配
2015,2016 2 tahun mendapat Belgium Anugerah iTQi (Anugerah Antarabangsa & Institut Kualiti)-Anugerah Taste Superior 3 bintang
2010 8th International Tea Rating- peringkat tinggi dalam pasukan teh merah

2006 Ten Ren's Tea competition- mendapat Emas dalam pasukan teh merah
Penghuraian
Produk kami telah melulus pensijilan makmal yang disahkan TAF (TUV Rheinland Group) dan dijamin tidak mempunyai residu racun perosak dan logam.

Semua pruduk telah diinsuranskan 30 juta dolar.
Teh Merah Taiwan Sanxia Honey dan jenis teh merah yang unik: melalui gigitan leafhopper, ia menghasilkan wangi yang unik dan asid amino. Selepas membakar daun, ia mengeluarkan perasaan madu dan buah

Ditapai sepenuhnya, tali seperti daun teh

Perasaan alam, selepas minum akan berasa kemanisan

Melulus standard pemeriksaan keselamatan negara


Kualiti terjamin: setiap bungkus telah melulus pemeriksaan dengan mematuhi standard Taiwan, EU dan Japan

Pilihan pertama kepada daun asal usul, teman yang terbaik dengan minum petang, juga cenderamata No1 kepada pelancong asing


Cara pembuatan Teh Max Art Fine
Jika anda ingin minum teh panas:
Peralatan yang disyorkan: teko gelas
Teh merah madu terkenal dengan daunnya dipetik oleh petani. Oleh itu, tehh ini boleh tahan suhu yang tinggi. Apabila membancuh, sila gunakan air yang bersuhu 85℃
1.panaskan cawan dengan menggunakkan air panas

2.letakkan daun teh / teh beg ke cawan

3.tuangkan 85℃ air panas

4.tunggu beberapa minit, selepas itu anda boleh menikmati
Jika anda ingin minum teh ais:
Peralatan yang disyorkan: teko untuk air sejuk
Menikmati teh ais pada musim panas. Mengikut penyelidikan, teh yang dibancuh dengan air sejuk boleh ekstrak ⅙ kafein berbeza dengan teh yang dibancuh dengan aie panas
1. letakkan daun teh / teh beg ke teko

2. tuangkan air sejuk ke teko

3. tunggu 2 jam

letakkan di dalam peti sejuk 24 jam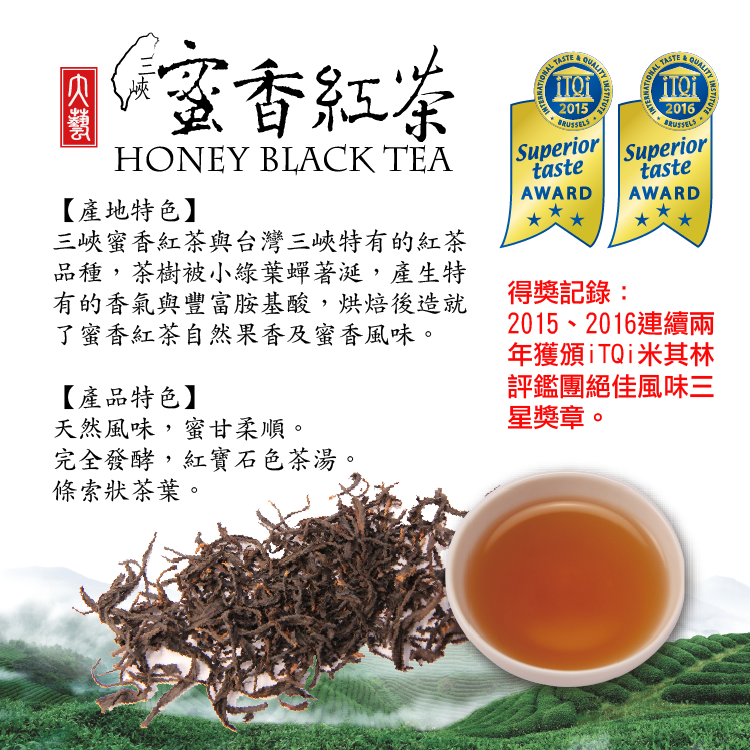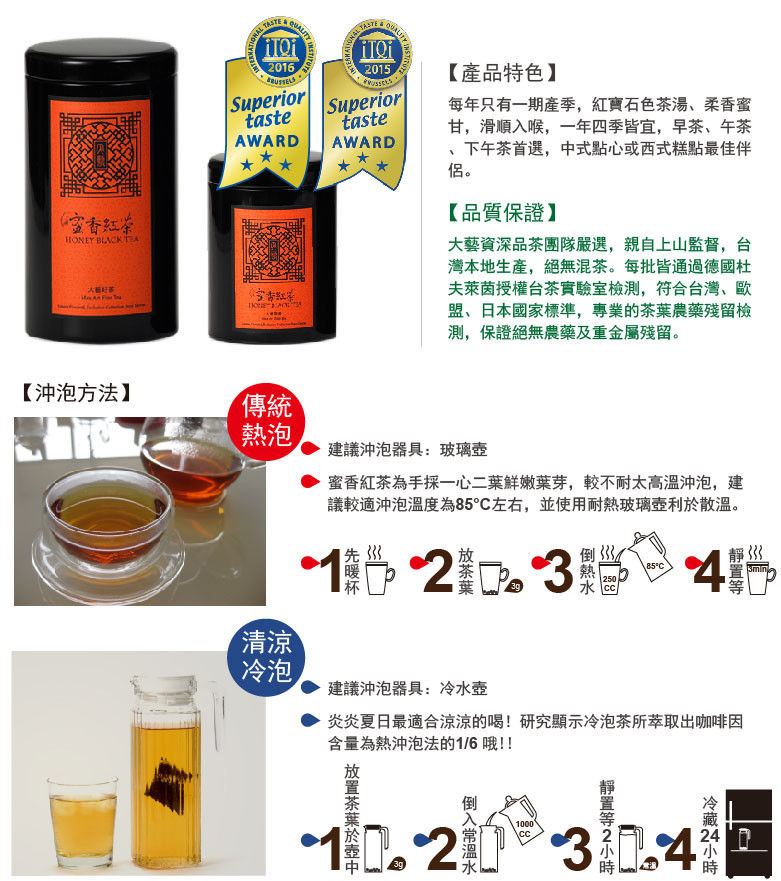 ---